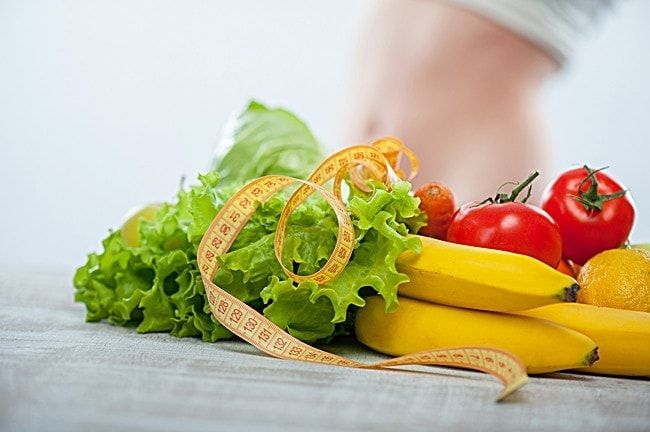 Warning: This article could successfully help you achieve your 2018 resolution of weight loss.
Veganism can be the game-changer for your 2018 resolution of losing weight. It has plenty (or plant-y?) of benefits, and it's a delicious way to give your body what it needs and lose those extra-pounds at the same time.
But…
Why Going For A Vegan Weight-Loss Plan?
There are many diets designed to help you lose weight, but the vegan diet is one of the best options because: (1, 2, 3, 4, 5)
Vegan diets are associated with effective and maintained weight loss in the short and long term.
Some studies (check sources above) point that a vegan diet is healthier in the long-term that omnivore diets, including the prevention of medical conditions.
Those studies also suggest that the vegan diet is better for weight loss than other diet recommendations such as omnivore, pescatarian, flexitarian, and vegetarian.
Apparently, this effectiveness is due to multiple factors, such as:
Vegan foods are high in fiber. Fiber is the indigestible part of plants. It enters and exits the body in almost the same shape, so it helps to increase our satiety feeling without adding extra calories, and keep us fuller for longer. Also, it benefits constipation.
As vegans don't eat animal-derived foods, we tend to read the labels of the foods we buy. Therefore, we are more aware of the nutritional content of what we eat. We tend to look for more organic and less processed foods.
The OCD with labels also means that we tend to eat more nutrient-dense foods.
The final and primary reason for doing a vegan weight loss plan is:
You don't need to count calories.
I repeat.
For the real Slim Shad… Sorry.
You don't need to count calories.
I should've told you this one first, right?
If you focus on having bigger portions of veggies and fruits instead of carbs, you won't need to count any single calorie. 1 cup of steamed broccoli has 31 calories, and that's a lot of broccoli. I rest my case.
Losing Means Gaining
With a vegan diet, you'll gain other benefits besides losing weight:
A leaner body. Vegans tend to have a lower mass index compared to vegetarians and omnivores.

Decrease in the risk cardiovascular disease and hypertension.

Reduction of cholesterol levels.

Prevention and management of diabetes.

Prevention of some types of cancer.

Enhancement of your immune system.

Some vegan foods increase your metabolism (like coffee).

And apparently, it fights the aging process!
You'll gain extra energy due to the nutrition-dense foods of a well-planned vegan diet.
Finally, you'll gain a light conscience. With one day of veganism, you save:
1 animal.
8 square meters of forest.
4,163.9 liters of water.
1 kg. of CO2.
1 kg. of grain.
A happy cow is a great benefit, isn't it?
How Can I Make My Vegan Weight Loss Plan?
First of all, if you want to lose weight you must have a caloric deficit. This can be achieved in two ways: eating fewer calories through the diet or burning calories through exercise.
Let's clarify something first. "Diet" according to the Oxford Dictionary, is:
"1. The kinds of food that a person, animal, or community habitually eats.
2. A special course of food to which a person restricts themselves, either to lose weight or for medical reasons.".
If you've had this weight-loss resolution repeatedly through years, you mustn't stick to diets that are hard to maintain, boring, or make you starve: basically, the definition 2. To success over time, stick to the definition 1. Make it a habit to eat well, there are many vegan recipes around to spark your creativity and help you stick with this.
A well-designed vegan meal plan for weight loss will include lots of veggies, fruits, and grains. Don't cut your carbs or healthy-fats intake, your body needs both to function. Make them your allies in healthy foods such as wild rice and avocado.
If you want to lose weight through a vegan diet, look for fiber-rich foods. They will make you feel satiated faster and will keep you full for longer. Some examples are:
Fruits
Vegetables
Grains
Snacks & Toppings
Pear
Spinach
Lentils
Popcorn
Strawberry
Kale
Kidney Beans
Almond
Avocado
Carrot
Split Peas
Chia Seeds
Apple
Broccoli
Chickpeas
Pumpkin Seeds
Kiwi
Artichoke
Oats
Pistachios
Increase your fiber intake slowly. Your body and gut bacteria need time to get used to it. Excess of fiber can cause bloating, diarrhea, abdominal pain, among other symptoms.
You can combine them in many ways to make your vegan meal plan for weight loss, like:
Breakfast:

Oatmeal + Apple + Cinnamon.
Strawberry smoothie + Chia Seeds.
Lunch & Dinner:

Broccoli soup.
Lentil soup.
Chickpeas w/veggies + Avocado slices + Artichoke hearts.
Salad + Pumpkin seeds (Mix every vegetable in the list and/or with others in your fridge, basically).
Snacks:

Carrot slices/Broccoli + hummus.
Popcorn (Flawless).
Any fruit.
If, on the other hand, you plan to lose weight through exercise with a vegan diet, you may have to include a vegan protein powder to help you reach your daily intake of protein easily and do your fat burning workouts with all the energy! Include protein-rich foods such as oats, tofu, edamame, seitan, and lentils.
Caution: Don't lose weight on your own by cutting down your calories through diet and doing a workout regimen at the same time. Your body needs a basal number of calories to function properly. If you are burning calories and eating fewer calories too, your body will have a huge caloric deficit, which will lead to lack of energy and make you prone to injuries/disease. It will give you a headache, literally. Please consult a nutritionist or a certified personal trainer in this matter.
How To Keep Your Gains?
Include vegan meals slowly. Start with dinners only, for example. As you get used to having vegan dinners, you can include vegan recipes for your lunch or breakfast dishes. That will help you to adapt and maintain the changes.
Weight loss is the short-term goal, but to keep it, make it easy and tasty. Find vegan recipes you like and get creative with them. Do you like chickpeas? Add a mix of sautéed veggies and rice for a delicious lunch; make chickpeas' hamburgers, or have hummus as a snack with sliced carrots/green beans/broccoli. If you like what you're eating, sticking to a vegan diet will be a piece of cake.
Need an extra-boost?
 Why going vegan, how to stick to it, vegan recipes, and even vegan inspiration… These 5 books will ease your way through veganism and give you a head start, reasons to keep going, and scientific backup, for newbies and seasoned vegans alike. Check them out!
[product_category per_page=5 columns=4 orderby= order= category=vegan-weight-loss-books]
Finally, Remember
Everything that has a "vegan" label on it doesn't necessarily mean it's healthy. There's also vegan junk/processed food that won't help you lose weight. Look for nutrient-dense vegan recipes, fill your plate with good protein sources (quinoa and tofu, for example), healthy carbs (whole grains such as wild rice) and colorful vegetables. If you want to lose weight, you have to watch your mouth, literally.
Omega-3 (lower than vegetarians and non-vegetarians).
Iron (our recommended intake is 8 times of those non-vegetarians).
Zinc (due to the higher phytic acid content).
Calcuim
Vitamin D.
Lack of vitamin B12.
You will probably need to take supplements. Consult a nutritionist or a healthcare professional first; he/she will assess you on how much to take and which supplement you exactly need. Here's a list of vegan supplements that could help you with that!
Drink at least 2 liters of water per day and do some kind of physical activity.
It's recommended to do 150-200 minutes of exercise per week, that's:
At least 30 minutes walking, every day from Monday to Friday. Why don't you start walking to work?
For more health benefits, adults should do at least 150 minutes per week of moderate-intensity exercises like walking briskly (3 mph/4 kph), doing water aerobics, or bicycling slower than 10mph/16 kph.

Also, you could do 75 minutes a week of vigorous-intensity aerobic physical activity like running, swimming laps, or jumping rope.
For additional and more extensive health benefits, the physical activity should be around the 300 minutes a week of moderate-intensity, or 150 minutes a week of vigorous-intensity aerobic physical activity, and include muscle-strengthening exercises. For more information, here's the current physical activity guidelines for Americans
This sums up the basics you need to know to begin the path towards that definitive check on your resolution's list. Enjoy the ride!
And finally, stay tuned; some good tips (and recipes) are on their way!