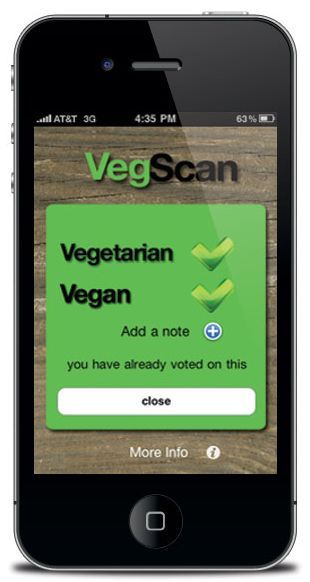 When I first went vegetarian in my suburban town, I had to spend hours at the supermarket reading all those labels and trying to make sense of the ingredients. Of course, this was the era before Smartphones. Now, there exists an app for just about everythingincluding helping vegetarians do their grocery shopping.
I recently came across an article about free vegetarian apps for your iPhone. Since I dont have an iPhone (being glued to my laptop is even digitization for me, thank you!), the existence of these vegetarian apps came as a shock to me. Most of the apps listed in the article were purely for recipes. However, there are some cool ones which can make vegetarian shopping much easier. I did a bit of searching and here are the best ones:
Veg Scan app: This is by far the coolest vegetarian app. You just hold your phone up to the ingredients and it will scan them, letting you know if the product is vegetarian or vegan.
Vegan Yum Yum app: Has an ingredients checklist, but no product checklist
Whole Foods Market Recipes app: You can use the app to find vegetarian or vegan products in the Whole Foods store
Animal Free app: Gives you a searchable list of ingredients and their origins
Cruelty Free app: This vegetarian app isnt for food, but rather lets you know whether cosmetics, cleaning products, and personal care items are cruelty free.
VeganXPress app: This app lets you know what is vegan and vegetarian at popular fast food chains and restaurants