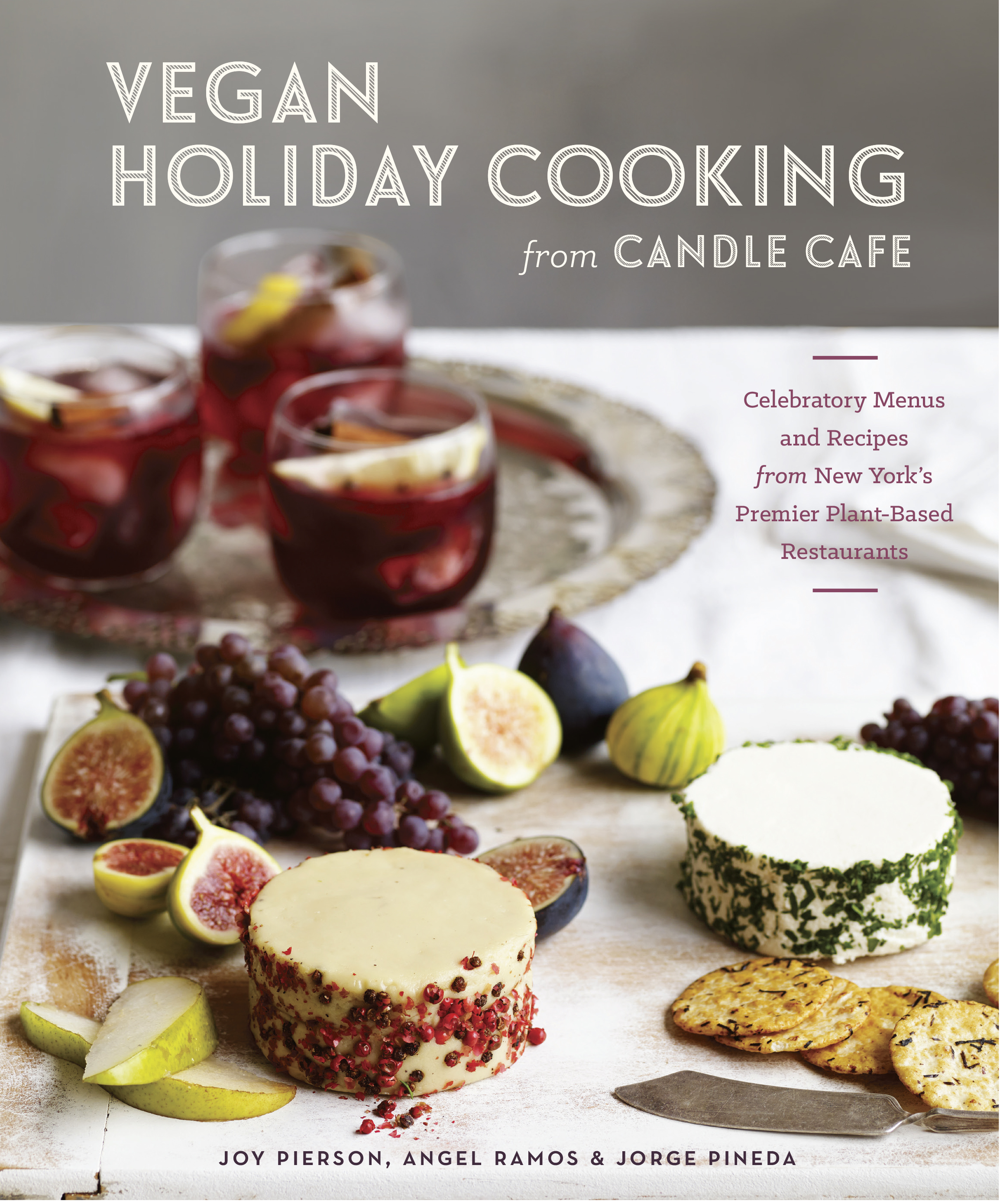 The holidays are one of the hardest times to be vegan because pretty much all traditional holiday foods are loaded with animal ingredients. Of course, you can do what most vegans do during the holidays: make a vegan dish to share with everyone. Since it is the holidays and you are aiming to impress (and prove that you don't just eat lettuce and tofu all year), you'll want to make something really special. These vegan holiday cookbooks are full of great recipes for making a great holiday feast.
 ~~~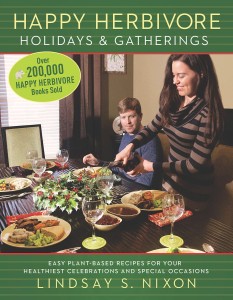 This vegan holiday cookbook includes 12 different holidays and 24 different menus. It has step-by-step instructions and great pictures, making it a good choice for beginner cooks. The recipes are also pretty quick to make, so they are suitable for everyday meals and not just holidays.
Cookbook Description:
Author: Lindsay S. Nixon
Format: Kindle and Paperback
Difficulty Level: Easy
Number of Recipes: 130+
Sample recipes:
Thanksgiving Loaf
Pumpkin Cheesecake
Portobello Pot Roast
Mulled Cider
"Crab Cakes" with Remoulade Sauce
 ~~~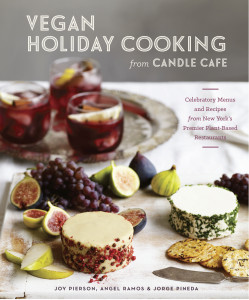 The Candle Cafe in New York is a famous vegan restaurant. They have released several cookbooks with their recipes and now have added a vegan holiday cookbook to the repertoire. The cookbook includes menus for all the major holidays as well as others like Super Bowl Sunday and Cinco de Mayo. Recipes are made by award-winning chefs and are truly spectacular, but will require a bit more work. This is a good choice for foodie vegans.
Cookbook Description:
Format: Kindle, Hardcover
Difficulty Level: Intermediate to Difficult
Number of Recipes: 100+
Sample Recipes:
Almond Crème Fraîche
Porcini-Crusted Seitan
Sweet Potato Latkes
Roasted poblano guacamole
 ~~~
This cookbook comes from my all-time favorite vegan food blogger, Susan Voisin of Fat Free Vegan and Nava Atlas of Vegkitchen.com. You will love the vegan holiday recipes in this cookbook because they are easy to make, don't use hard-to-find ingredients, and are pretty true to traditional holiday dishes so even the most avid carnivores on the guest list should be satisfied. The cookbook recipes are organized by holidays like Thanksgiving, Christmas, and Easter.
Cookbook Description:
Authors: Nava Atlas and Susan Voisin
Format: Hardcover
Difficulty Level: Easy to Intermediate
Number of Recipes: 200+
 Sample Recipes:
Coconut butternut squash soup
Green chili corn bread
Spiced pears and fresh figs in red wine
Pecan stuffed squash
Rosemary roasted sweet potatoes
 ~~~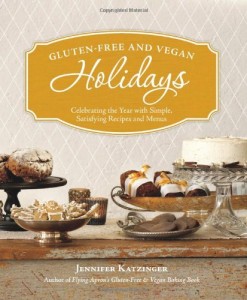 Jennifer Katzinger is the former owner of a Seattle gluten-free and vegan bakery. In her third cookbook, she gives delicious recipes for satisfying guests during holiday meals. There are a lot of gluten-free breads, baked goods, and sweets recipes in the book which people who are gluten-free are sure to appreciate. Not all of the recipes are exactly "traditional" and they take the healthy approach to holiday dishes, but still should have universal appeal to please your carnivorous Uncle Bob.
Cookbook Description:
Author: Jennifer Katzinger
Format: Kindle and Paperback
Difficulty Level: Easy to Intermediate
Number of Recipes: 70+
Sample Recipes:
Acorn Squash and Sweet Potato Pie
White Bean Spinach Tart
Molasses Spice Cookies
Fig and Spice Cake with Creamy Citrus Frosting
Nut Butter Chews
 ~~~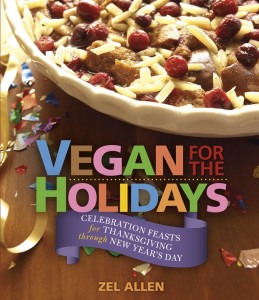 This vegan holiday cookbook covers Thanksgiving, Christmas, New Years, Hanukkah, and Kwanzaa. The recipes are based on traditional dishes, but completely revised by using innovative ingredients in place of meat and animal products.
Cookbook Description:
Author: Zel Allen
Format: Paperback
Difficulty Level: Intermediate
Number of Recipes: 100+
Sample Recipes:
Savory Chickpea Yule Log
Mashed Potatoes with Onions and Chardonnay Gravy
Wild Rice and Chestnut Pilaf
Spiced Cranberry Nog
Pistachio Paradise Cookies