Going vegan by no means has to be more expensive than an omnivorous diet. But, if you are eating convenience foods and/or opting for healthy organic options, then you will probably see a rise in your grocery bills as a vegan. To help you save money as a vegan, here are some places where you can get vegan coupons.
*Most are for the US only
**Some of these coupons are for vegetarian products, not just vegan products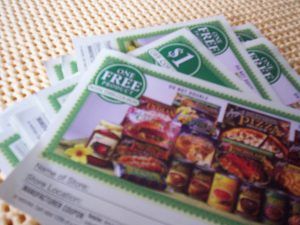 Vegan Coupon Sites
Vegan Coupons Facebook Page
I'm including this first because I absolutely love this page. It regularly posts with links to the latest coupons for vegan coupons, which means you dont have to bother scouring the web for the deals yourself. They also have coupons for vegan cookbooks and links to free vegan eBooks. www.facebook.com/vegancoupons
This page is constantly updated with the latest coupons and deals on vegan products. It is mostly for vegan food but there are also deals for cookbooks and eBooks. www.reddit.com/r/frugalvegan
Coupons Directly from the Company
You can usually get coupons directly from the manufacturer of vegan foods by visiting their website and signing up for their newsletter. Or, you might need to become a fan of them on Facebook. Of course, that means your email box and Facebook feed are going to be full of non-coupon promotional stuff too, but it might be worth it for the savings. Here is where you can sign up for coupons from the big brands of vegan products:
They always have some coupons online and often they are for vegan products. Get the coupons here.
I love Beyond Meat because they have great company politics and dont use hexane or GMOs to make their mock veggie meats. They give out coupons pretty regularly to people on their mailing list. Sign up here.
This is another of my favorite brands for mock meats because they dont use hexane or other hazardous products. You can get coupons by going to their website and signing up for their mailing list. The last I checked, the signup was at the very bottom of the homepage here.
Sign up and you will instantly get a coupon for silk products like soy or almond milk or soy yogurt. Sign up here.
You can get an instant coupon just by filling in a form. You dont have to sign up for their mailing list but this will get you some more coupons in the future too. Sign up here.
Follow Your Heart Coupons
This is the company which makes Vegenaise and Vegan Gourmet cheese. You dont need to sign up to any mailing list to get coupons. Just visit their coupon page here.
Go to their Facebook page and click on the Coupon box. Get the coupon here.
You can find coupons on their website or sign up to their mailing list to get coupon updates. Sign up here.
There are occasionally coupons for Amys Organic products. Sign up here.
Instantly get $1 off by signing up. Then get more coupons in emails. Sign up here.
This company often gives out coupons for their veggie cheese products. Get the coupons here.
Morningstar doesnt give out coupons very often. To get them, you actually have to sign up for the Kelloggs Family Rewards program (Kelloggs owns Morningstar) and sort through all of the Kelloggs products and hope for one for Morningstar. Sign up for the mailing list here.
General Coupon Sites
Ethical Deal: This one is for the US and Canada. You can choose from categories of ethical goods, including one for Food and Beverages and Health and Beauty products. You wont find too many deals, but the ones that they do have are pretty good.
Coupons.com and RedPlum.com: I like these two coupon websites because they actually have search tools so you can look through all the offers quickly by searching for terms like vegetarian or soy. With most other coupon websites, you have to browse through each page full of non-veg crap food coupons in hopes of finding something good.
Image credit:
Amy's Kitchen Freebie Coupons by Tanya Patrice
Attribution License