The vegan breakfast of champions! First of all, breakfast is the most important meal of the day. Most noteworthy, it is what gives you fuel for your day and, as a result, helps kickstart your metabolism. Because you won't be starving by lunch time if you've eaten a good vegan breakfast, you are therefore more likely to make healthy food choices later in the day.
If you are doubtful, there are plenty of studies which show that breakfast eaters are healthier – like the study which found that people who frequently eat breakfast have lower rates of obesity, diabetes, heart disease, and finally hypertension. Yet, there is a catch to the whole breakfast-health connection: especially relevant, you've got to eat a healthy breakfast if you want to reap the benefits.
By loading up on junk food in the morning (like those sugary cereals we love so much), you can experience a blood sugar spike and subsequently crash as a result. Thus once your blood sugar comes crashing down, you will feel tired and hungry for more sugary foods. Furthermore, these typical junk food breakfasts consist of only one or two food groups, so they aren't giving your body the nutrients it needs to sustain itself until the next meal. To make matters worse, many typical breakfasts — like bacon, eggs, and toast — contain too many calories and burden the digestive system. Consequently, you end up feeling weighted down instead of energized for the day.
---
Breakfast: Vegan Cinnamon Peach French Toast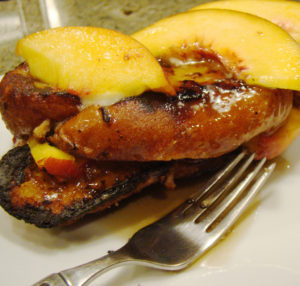 Author: PlenteousVeg
Recipe Type: Breakfast
Cuisine: Vegan
Serves: 2
Batter Ingredients:
4 Tablespoons Soy Flour
4 Tablespoons Organic Sesame Tahini
1 Cup Unsweetened Almond Milk
1 Tablespoon Chia Seeds (Whole or Ground)
1/2 Tablespoon Ground Cinnamon
1/2 Tablespoon Vanilla Extract
1 Pinch Sea Salt
Toast Ingredients:
4-5 Slices 100% Whole Grain Bread (cut into sticks)
Toppings Ingredients:
Maple or Agave Nectar Syrup
Sliced Peaches
Instructions:
Mix all batter ingredients in a large size shallow bowl. Whisk until smooth and creamy. Place in fridge for 15-20 minutes.
Preheat griddle to 350°F (medium heat). Coat skillet with 1 Tablespoon coconut oil (or vegan butter).
Thoroughly soak each stick of bread in batter (20 seconds).
Place on skillet and sauté each stick until golden brown (3-4 minutes).
Place toppings and serve warm!
---
Vegan Coconut & Almond Granola Recipe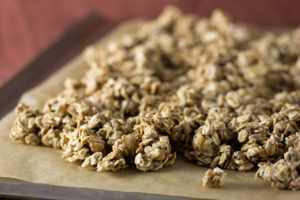 Author: PlenteousVeg
Recipe Type: Breakfast
Cuisine: Vegan
Serves: 3
Ingredients:
3 Cups Gluten Free Rolled Oats
1 1/2 Cup Unsweetened Coconut Flakes
1 1/2 Cup Raw Almonds
3 Tablespoon Organic Turbinado Sugar
1/4 Teaspoon Sea Salt
1/4 Teaspoon Ground Cinnamon
1/4 Cup Coconut Oil
1/4 Cup Unsalted Almond Butter
1/3 Cup Maple or Agave Nectar Syrup
1/3 Cup Dairy-Free Dark Chocolate Chips
Instructions:
Preheat oven to 350°F.
Toss rolled oats, coconut flakes, almonds, sugar, and sea salt together in large size bowl.
In a small skillet over 350°F (medium heat), heat coconut oil, almond butter, and syrup, and pour over the dry ingredients, then mix.
Evenly spread mix onto large baking sheet. Bake for 25-30 minutes. Stir at 12-15 minute mark. Don't burn toward end!
Once browned, remove from oven and let cool.
When cooled, add dark chocolate and mix.
---
Vegan Tofu Scramble

Author: PlenteousVeg
Recipe Type: Breakfast
Cuisine: Vegan
Serves: 2
Ingredients:
1 Small Organic White Onions
1/2 Small Organic Green Bell Pepper
1/2 Small Organic Red Bell Pepper
1 Cup Chopped Fresh Vegetables (Chinese Brocolli, Red Cabbage, Spinach, Tomatoes, Mushrooms, Zucchini)
1 Tablespoon Filtered Water
1 Teaspoon Soy Sauce (Low Sodium)
8 Ounces Tofu (Firm)
1/2 Teaspoon Turmeric Powder
1/4 Teaspoon Sea Salt
1/4 Teaspoon Ground Black Pepper
Instructions:
Peel and chop onion.
Dice bell peppers and fresh vegetables.
Drop vegetables, water, and soy sauce into skillet and set over 350°F (medium heat).
When sizzling, reduce to 150°F (low heat).
Cover skillet and cook for 12-15 minutes. Stir periodically.
Add tofu to vegetables and scramble.
Sprinkle turmeric powder and scramble.
Increase heat to 350°F and stir.
Remove skillet from stove and season with salt and pepper.