Pumpkin Seed Smoothie benefits are good for the heart, bone, prostate, and sleep. Pumpkin seeds are also rich in antioxidants which can boost immunity and are a great source of nutrients.
The heart-health benefits of pumpkin seeds are attributed to their high levels of phytosterols, a natural chemical that can block cholesterol absorption in the small intestines. Having trouble sleeping? Try eating a handful of pumpkin seeds a few hours before going to bed. Pumpkin seeds are rich in the amino acid tryptophan, the same amino acid which is notoriously found in turkey and attributed to making us feel sleepy after Thanksgiving dinner.
While pumpkin seeds may not contain much calcium, they do contain vast amounts of other minerals which are important for bone health, including magnesium, manganese, zinc, and phosphorous.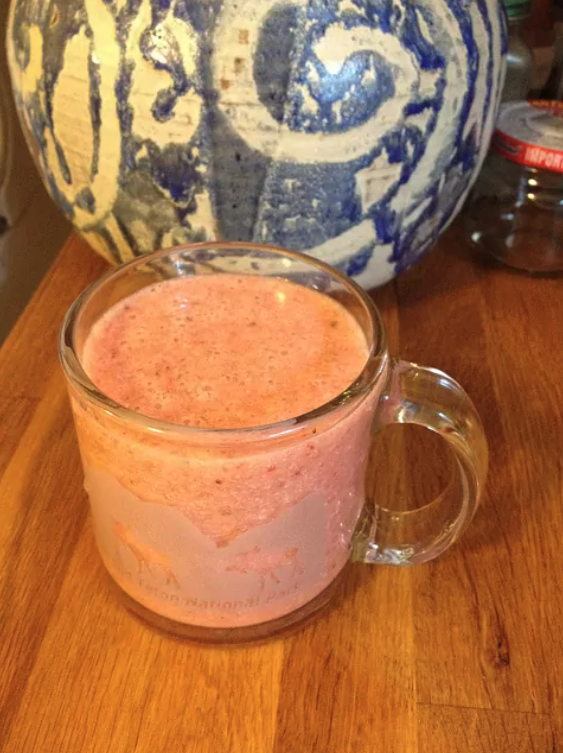 Print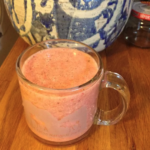 Simple Pumpkin Seed Smoothie
---
Author:

Total Time:

6 minutes

Diet:

Vegan
Juice of

1

lime

1

pound of strawberries

½ cup

of pepitas

2 cups

of water
---
Instructions
Blend everything in a high-power blender and enjoy! If your blender isn't powerful enough to puree the pumpkin seeds, you might want to soak them overnight first to make them softer.
Category:

Vegan Recipe

Cuisine:

Vegan
Keywords: Pumpkin Seed Smoothie
How to Get the Health Benefits of Pumpkin Seeds?
Bacon. As a vegan, I'm sure you hear this word quite frequently. When? All, the, time. Especially when people are telling you why they could never be vegan. It's also a very popular comment under pretty much any vegan related social media photo or story. What do our omnivorous friends not realize? Most noteworthy, going …
Pumpkin seeds are really tasty, so you can just eat them as a snack or make a Pumpkin Seed Smoothie. After scooping them out of a pumpkin, roast them and enjoy. But you might find it more exciting to start including them in your meals. My favorite way of eating them is to put them on top of a salad. They give the salad a nice crunch and richer taste. If you've got a high-powered blender, then you can add pumpkin seeds to your smoothies. Health food stores also sell pumpkin seed butter which you can use instead of peanut butter on sandwiches or sweets. When I bake my own bread, I sometimes throw a handful of pepitas along with some other seeds into the dough.