3

pounds of spinach (or greens of choice)

14 ounces

of walnuts

2

white onions

2

cloves garlic

2 ounces

of fresh cilantro (about

1

small bunch)

2 ounces

of fresh parsley (about

1

small bunch)

6

–

8

Tbsp white wine vinegar

1

heaping Tbsp red pepper

1

heaping Tbsp dried marigold (omit if you don't have it, or you can buy it here)

1

heaping Tbsp blue fenugreek
Pomegranate seeds for garnishing
---
Instructions
Prepare the spinach. Cut off the ends and wash it thoroughly.
Boil or steam the spinach until it is soft. Don't overcook it though. It should still have its bright green color, not be dull and slimy! When cooked, squeeze out the excess water from the spinach and set aside.
In a food processor, meat grinder or Magic Bullet, grind the walnuts and garlic. Transfer to a bowl.
Add red pepper, marigold, and fenugreek to the bowl with the walnut mixture.   Add the white wine vinegar and mix.
Finely chop the onion, parsley and cilantro. Add to the walnut mixture.
In the food processor (or meat grinder or Magic Bullet), grind up the cooked spinach.
Add ground spinach to the walnut mixture. Mix well using your hands.
Leave mixture to stand for at least 2 hours so the flavors can blend.
Form into balls (to make it look pretty) and top with pomegranate seeds.
Serve warm or cold. Enjoy your greens!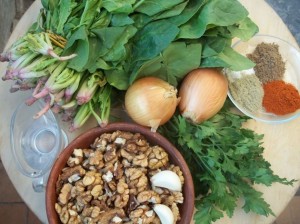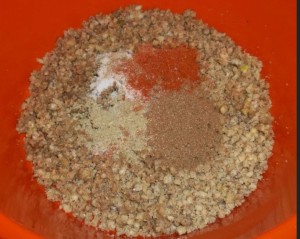 Grind the walnuts and add the spices.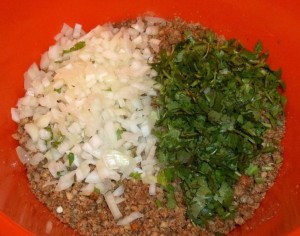 Add the chopped onion, cilantro and parsley.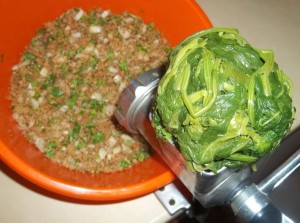 Chop up boiled spinach and add to walnut mixture.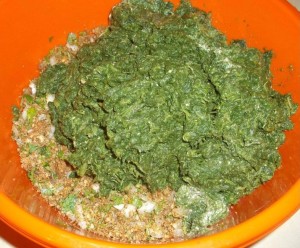 Mix everything together.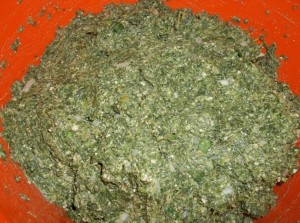 It won't look pretty at this point. Don't worry!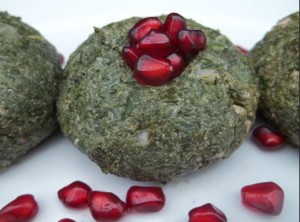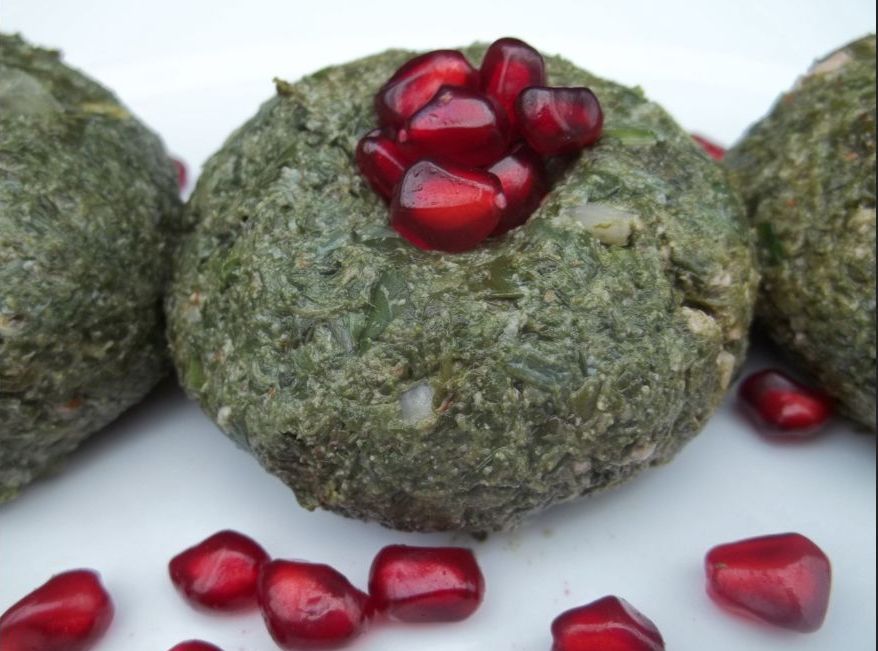 Form mixture into balls and top with pomegranate seeds.
Category:

Vegan Recipe

Cuisine:

Vegan
Keywords: Georgian Spinach with Walnuts (Pkhali)