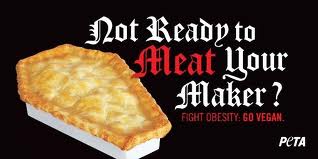 In the 30+ years that PeTA has been around, their advertisements have mostly focused on the animal-rights aspects of going vegetarian. They got flak for their controversial ads comparing caged chickens to Holocaust prisoners, or wrapping humans in cellophane on Styrofoam trays like supermarket chicken. When they weren't going for the shock and disgust factor, they were using sexy celebrities, most of whom would be naked save for a few cabbage leaves.
Now, it seems like PeTA has taken a stark new direction in their anti-meat advertisements. Instead of focusing on the animal rights issues, they are piggybacking off the anti-obesity movement with ads promoting the weight-loss benefits of vegetarians.
Starting a couple years ago, PeTA began launching ads like these:
(Stomach: ©iStockphoto.com/Jodi Jacobson |Pig snout: ©iStockphoto.com/image-2-photography)
In PeTA style, the ads have been met with a lot of criticism and controversy. PeTA even pulled the Save the Whales ad and replaced it because of complaints. This time, I can't really blame the critics for being angry though. While there is a lot of evidence which shows that vegetarians and vegans have a much lower obesity rate than meat eaters (about 3-9 times lower!), the choice to go vegetarian shouldn't be made simply to lose weight.
But even vegetarians can be overweight!
The healthy-weight benefits of vegetarianism don't come because there is no meat in the diet. Rather, the benefits come when people eat more fruits, veggies, legumes, beans and whole grains.  It is safe to say that if an obese person simply cut meat out of his or her diet but left everything else the same (fast food, cookies, processed junk food, etc.), that person probably wouldn't lose any weight. He or she might even end up getting sick from lack of nutrients too (as much as vegetarians hate to admit it, meat does have lots of nutritional value, though I'm not saying that's a reason to eat it).
It is hard to sum up the weight-loss benefits of vegetarianism in a catchy billboard one-liner. But, I still think PeTA can do a better job of explaining the health benefits of vegetarianism. Otherwise, they should go back to their old style of advertising vegetarianism as an animal-rights issue, not an obesity issue.
What do you think? Should PeTA be using the obesity epidemic to promote vegetarianism?