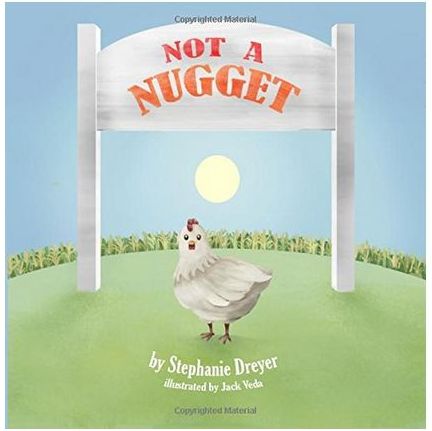 As a vegetarian or vegan parent, you've got your work cut out for you. While it is fairly easy to instill pro-animal values while at home, you've got to acknowledge that your children will be barraged with an onslaught of messages which promote eating meat. There are the McDonald's Happy Meals. There are the advertisements for hot dogs. There are school lunches made of processed meats…
Stephanie Dreyer of VeegMama is combating this message with her new book Not a Nugget which is aimed at 3-7 year olds.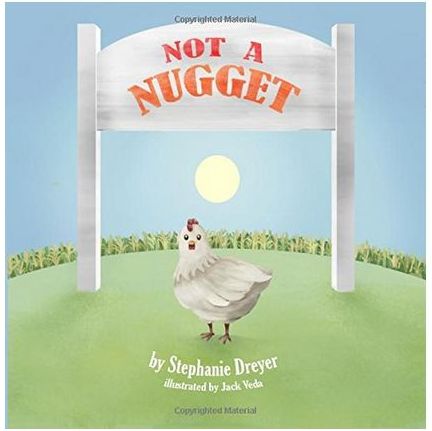 Not a Nugget is a non-fiction book which gives facts about animals which are commonly used as food. The book is laid out so one page shows an animal and text like "Not a Nugget" or "Not a Steak." The next page gives a quick fact about the animal. My favorite is the turkey fact: "Did you know that turkeys sing? If you turn on the radio, they will gather around and give you a 'concert', gobbling along to the music."
By educating kids on how interesting animals are, Dreyer aims to change the way we view animals and our food.
My only real criticism of the book is that, with many of the animals, Dreyer tries to show how much the animals are like humans and says things like "just like we do." It is nice to show how similar all of us animals are, but children shouldn't have to feel like they've got similarities to an animal in order not to eat it. Simply learning about how interesting and complex animals are should be enough to instill respect for them and nature.
I also wish that Dreyer would have gotten into more detail with the facts, or at least a bit more scientific. Because of this, I'd say that the book is probably better for younger kids (3-5) and not older. For older kids, be prepared to supplement the info in the book with more facts about the animals. That could be a great starting point for a discussion with your kids about animals.
Overall, my daughter and I really enjoyed reading Not a Nugget together, and talking about how interesting animals are.