As a mother of a small child, I am always looking for new ways to get my kid to eat leafy greens. I put them in smoothies and homemade green popsicles. I put them in hummus. I put them in the water before cooking rice or couscous. This green kale bread recipe is another sneaky way I get more greens into her growing body.
Yes, I know that sneaking greens into my child's food isn't exactly the best way to teach nutrition. I fully believe that kids should be taught about nutrition in terms that they understand. For my 4-year old, this means saying things like "Lentils have lots of protein, which help your muscles grow so you can run faster", "Tomatoes have lots of antioxidants, which keep you healthy so you don't have to go to the doctor", or "Chia has lots of Omega 3, which makes your hair and skin look great."  But, no matter how many times I explain the merits of leafy green vegetables, it can still be hard to get her to gulp them down. Hence why I sneak them into recipes whenever I can. Read this post to learn ways I get my kid to eat healthy.
The dough of this kale bread can also be used for a pizza crust, calzones, or bread sticks. You can also use any type of leafy greens you want. I prefer kale because it is a better bioavailable source of calcium and iron than spinach. I sometimes throw other nutrient-dense foods into the dough also, like I did with this lentil flatbread recipe. Enjoy!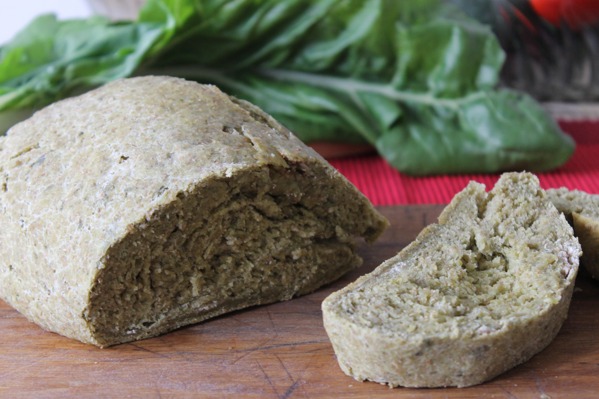 Green Kale Bread Recipe
Ingredients:
2 tsp instant yeast (or 1 cube of fresh yeast if you can find it)
2 tsp sugar
1 ¼ cup warm water
About 10 big leaves of kale (or other leafy greens)
1 ½ cups whole grain flour
2 cups all-purpose flour
1 tsp salt
2 tsp olive oil
Optional seasonings: garlic, parsley, basil, paprika…
Instructions:
Prepare the yeast. Put the yeast in a mug with the sugar and some of the warm water. The yeast will eat the sugar and start to grow. Let the yeast grow for at least 15 minutes. Don't use hot water because it could kill the yeast!
Prepare the kale. Remove the hard stems and ribs. In a blender, blend the kale with the remaining water.
Make the bread dough. In a large bowl, combine the flours, salt, and optional seasonings together. Make a well in the center. Slowly add the oil and yeast. Then slowly add the kale-water mixture. Mix with a fork, gradually drawing in more flour until it is all incorporated.
When the dough gets too thick to mix with the fork, transfer it to a floured surface and start kneading it with your hands.
Cover the dough and let it rise until it has doubled in size. Depending on the quality of your yeast and the temperature of your home, this could take about 20 to 40 minutes.
Knead again and let rise one more time, about 10 minutes.
Shape the dough
Bake at 350 degrees F for about 30 minutes. It will be slightly golden outside when it is done, and will make a hollow sound when you bang on it with a fork.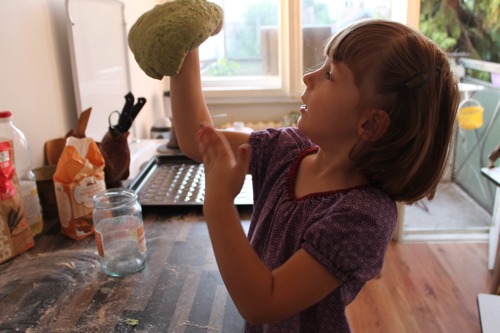 This is my 4-year-old daughter helping me make the kale bread.  Letting your kids help in the kitchen (no matter how big of a mess they make!) is a great way to get them involved and teach them to appreciate healthy food.  BTW — this is what a socialist-style kitchen in Serbia looks like ;p