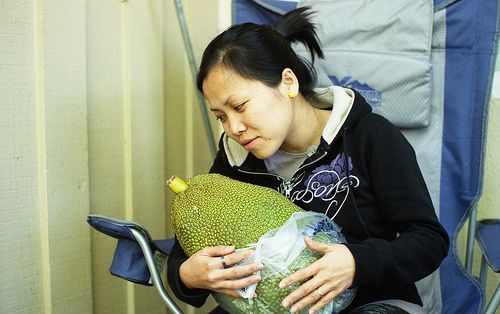 Because of genetic engineering and selective breeding, fruits in the supermarket are becoming a heck of a lot bigger than they used to be.  Not all giant fruits are the result of human intervention though.  Here are some of the largest fruits in the world — and also an explanation of why it is so weird that they are so big.
*Note: A fruit technically is the seed-bearing part of a plant. So, while most of us now know that a tomato is a fruit, so are other foods with seeds like cucumbers and squash. Of course, that doesn't stop them from getting labeled as vegetables!
Meet the Jackfruit…
The Jackfruit is the largest tree-born fruit in the world. This plant, which likely originates from India, can weigh up to 80 lbs! The exterior of this giant fruit doesn't look too appealing (and the ripe fruit also smells funky) but, if you cut into it, you will find succulent yellow flesh that is begging to be eaten.
When still unripe, jackfruit has a texture which is very similar to chicken. Since it isn't sweet when unripe, jackfruit can make a great meat substitute for vegetarians. Check out this awesome recipes for jackfruit mock pork wraps! For info on how to handle jackfruit, check out this great visual guide here.
Meet the Pomelo…
The pomelo is the largest fruit of the citrus family. It often gets inaccurately called a "giant grapefruit", which is an affront to the fruit considering the fact that grapefruits are actually a hybrid of the pomelo and orange! Tangelos are also made as a hybrid of pomelos, but with tangerines. Like other fruits in the citrus family, pomelo will give you a blast of vitamin C and antioxidants.
Let's Not Forget about Watermelon…
Watermelon is one of the biggest fruits in the world. There are over 1200 varieties of this massive fruit, some of which can easily grow to over 150 pounds. The world record for the largest watermelon currently stands at 291 pounds and was grown in Sevier County (the birthplace of Dolly Parton).
But Why Do Giant Fruits Exist?
If you think back to your botany class, you know that fruit is tasty and attractive so animals will eat it, swallow its seeds, and then eventually "disperse" the seeds elsewhere.
But what the heck could swallow the seeds of an avocado, mango, or some of those other gigantic fruits?
Most of the animals which used to chow down on giant fruits are no longer around. For example, scientists know that giant sloths in South America used to eat mangos. The giant sloths became extinct, but the plants "have been slow to catch on" in evolutionary terms. The plants didn't have any reason to adapt though since humans are doing such a good job of keeping the species abundant through agriculture (no seed dispersal necessary!).
You can read a cool article about this and "the riddle of rotting fruit" here at the AmericanForests.org. If you are really interested on the subject, then you can read this 300 page investigation called The Ghosts of Evolution which is a surprisingly great read.