I discovered this eggplant recipe while in Georgia (the country, not the state!) and now have a favorite food.  Georgian cuisine is absolutely amazing and quite unlike anything I have ever tried before. They use a lot of interesting herbs and spices, including dried marigold and put walnuts on everything.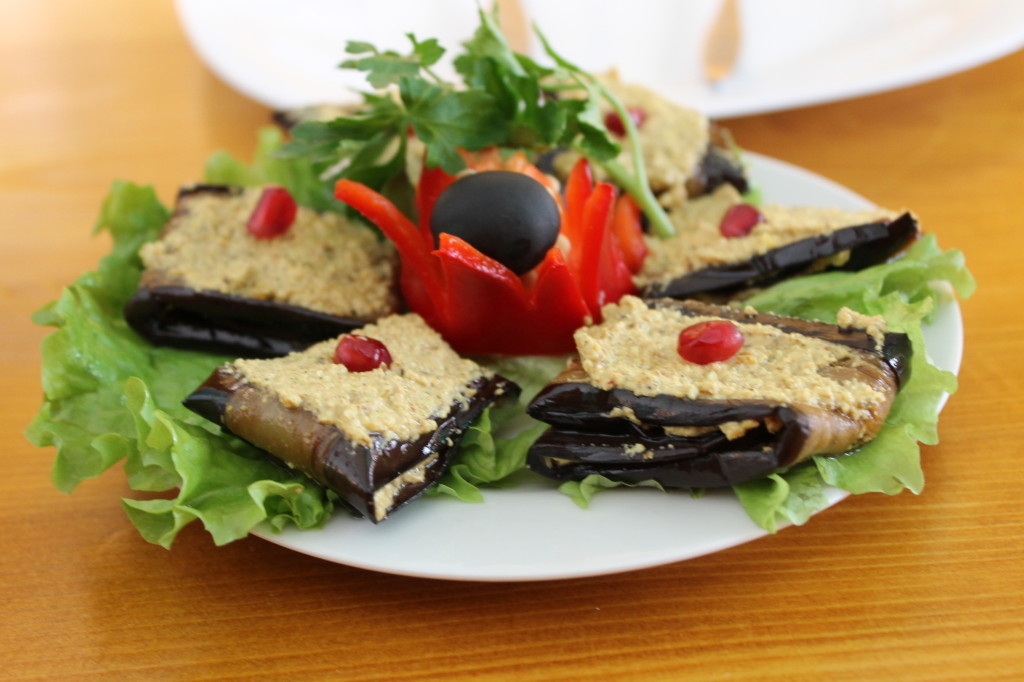 Georgians are Orthodox Christians and, to say the least, they are very religious.  Georgia was one of the first nations to adopt Christianity and it seems like there is a church everything 100 feet.   As a vegan, one great thing about traveling in religious Orthodox Christian countries is that they observe the fasting periods laid out in the bible.
According to religious traditions, Orthodox Christians are supposed to refrain from the following during their fasting periods:
So, basically, Orthodox Christians follow a vegan diet during their fasts. Yes, fish is allowed – but fish isn't very popular in a lot of the Orthodox countries I've traveled to, so you are basically getting vegan food.
When are these fasting periods? There is a LOT of them: lent, before Christmas, during certain religious periods, and every Wednesday and Friday.  Yes, this means that strict Orthodox Christians are vegans for most of the time!
Georgia
If you travel in Georgia or other Orthodox Christian countries (such as Russia, Bulgaria, Serbia, Romania, Greece…), you will have no problem finding vegetarian and vegan food to eat. Just don't ask for vegetarian or vegan food. They will be confused and probably serve you "just a little" meat. But ask for "samarkhvo" food in Georgia and you will get something fantastic and vegan.  Read my post about traveling abroad as a vegan to get more helpful tips.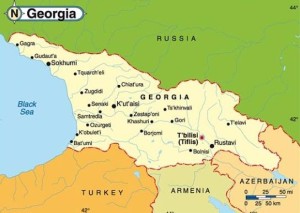 This is one of the delicious recipes I tried while in Georgia. It is called "badridzhani nigvsit", which means Eggplants and Walnuts. They put walnuts on everything, including in baked beans and cooked spinach. Georgians also have some amazing spices they use in their cuisine. The recipe calls for dried marigold. If you can't find it, you can omit it but you might want to go pick some marigolds from a garden just to try them. The flavor is fantastic.
Eggplant with Walnuts Recipe (Badridzhani Nigvsit)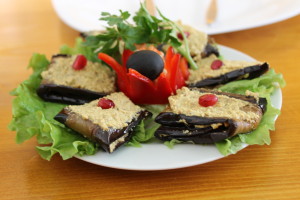 Ingredients:
4 Japanese eggplants (the long thin kind; if you can't find these, then use 2 medium regular eggplants)
Oil (enough for baking or frying the eggplant)
1 cup toasted walnuts
1 tsp coriander
1 tsp ground fenugreek
½ tsp hot paprika or red pepper
1 tsp saffron OR ¼ tsp. ground turmeric (saffron is expensive!)
1 tsp of dried marigold (omit if you don't have it, or you can buy it here)
1 tbsp red wine vinegar
2 cloves garlic, minced
½ yellow onion, chopped
½ tsp salt, or to taste
Pomegranate seeds and/or parsley for garnish
Instructions:
Peel the eggplant and cut it into long, thin strips about ½ inch thick.
Lay the eggplant strips out flat and sprinkle them with salt. Be generous! This step is very important because it draws water out of the eggplant, and also helps take the bitterness away. Go ahead and sprinkle both sides with salt. You will see the eggplant start to "sweat." Let it sweat for about 30-60 minutes. If you are in a rush, you can squish a paper towel on the eggplant strips to get some of the water out.
You've got two choices from here. You can fry the eggplant slices. Or, the healthier option would be to grill them. Preheat the oven to 350 F. Brush both sides of the eggplant strips with oil and bake for 20-25 minutes, or until soft. Set the eggplant strips aside when done.
Heat a bit of oil in a pan and fry the walnuts with the garlic and onions. Make sure to keep on stirring so the walnuts don't burn. *You can skip this step, but it makes everything taste even better.
In a food processor or Magic Bullet, blend the walnuts with all the spices.
Add the red wine vinegar to the walnut mixture and blend some more. It should form a nice paste. If it is too thick, add 1-2 tbsp of water.
Spread the walnut mixture on 1/3 of the eggplant strip, then fold over and add some more walnut mixture. Fold over again and top it off with more walnut mixture. Or you can spread the walnut mixture all over the eggplant strips and roll them up. Get creative!
Garnish with pomegranate seeds and/or parsley leaves. Serve warm or cold. It will taste awesome anyway you eat it.