I am getting a bit sick of all those vegetarian advocates who promote going veg as a way of becoming healthier.  Yes, vegetarians do have a lower rate of heart disease, diabetes, and even mortality. But simply going veg doesn't mean your diet will become healthier.
Just look at all the overweight vegetarians as an example!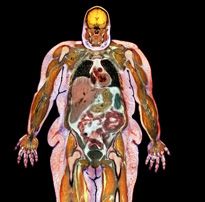 While the obesity rate in vegetarians might not be anywhere close to the obesity rate of the general public (which is currently at 35.7%!!!), I have noticed the epidemic spreading to vegetarians and even vegans too. According to one Swedish study, the obesity rate of vegetarians and vegans was 25-29%, compared to 40% for meat eaters. Swedes are notoriously thinner than Americans, so I can only imagine how fat US vegetarians are!
10 years ago, vegetarians were a market group which got little attention – which meant you weren't going to find many vegetarian restaurants or foods like seitan in supermarkets. Now, you can even get soy milk at Wal-Mart.  Vegetarians no longer have to cook fresh veggies, grains and legumes every day. They can just pop open a can of Amy's soup or throw a vegan burrito into the microwave.
 
Vegetarian Does NOT Mean Healthy!!!
Somewhere along the lines, vegetarians tricked themselves into believing that animal-free processed foods are healthy. True: most vegetarian foods are healthier than the non-vegetarian alternative. But that doesn't make them healthy. Need an example?
Newman O's are healthier than Oreos, but that doesn't make them healthy!!!
Are You a "Spaghetti Vegetarian"?
A while back, I started referring to a certain type of vegetarian as "spaghetti vegetarians." There are the vegetarians who don't like vegetables and/or cooking.  So, they fall back on the easiest veggie dish: spaghetti or other pastas.
Not only is a pasta-only diet sure to make you gain weight, it will also likely result in some serious nutritional deficiencies. Good luck getting nutrients which even the most health-food crazy vegetarians struggle with, like calcium, zinc, iron and vitamin D and B!
Keep Reading the Labels!
Back when I first became vegan, there weren't many brands who made vegan food. Even the ones who did make vegan products usually didn't advertise it on their packaging because they were worried about isolating mainstream consumers. So, we vegans had to read the ingredient lists on ALL foods.
When you read food labels (whether your veggie or not), you start to realize just how much crap is in our food – like when the first ingredient is bleached flour and the second corn syrup. My theory about why vegetarians are thinner than meat eaters isn't just that veggie diets are lower in calories and higher in fiber (though this certainly contributes to the lower obesity rate). Rather, I think that vegetarians are more food aware than meat-eaters because they have to constantly read food labels. After seeing "corn syrup" listed everywhere, you start to get a bit scared of manufactured foods.
But today, many foods clearly state "VEGAN" right on the box – so vegetarians don't even have to read through the lengthy ingredients lists. To avoid an obesity epidemic amongst vegetarians and vegans (don't think it won't happen!), I implore everyone this:
Keeping reading the labels on all foods you eat – even if they say vegan. For your health, you should know exactly what is going into your body so you can make better choices about the foods you eat.