It is that time of year again the time where we start frantically Googling how to make a vegan turkey and what vegan foods to serve my in-laws during Christmas. While some vegans might throw their hands in the air and just eat coconut curry for Thanksgiving, others would rather keep a more traditional fare on the table. For those, these vegan holiday cookbooks will help you find inspiration and recipes.
1. Vegan Holiday Kitchen
Nava Atlas of VegKitchen.com is famous for her cookbooks like Plant Power and Wild About Greens. Her recipes are gourmet without being too complicated. This is definitely the best vegan holiday cookbook you will find, especially because there are gorgeous photos to accompany the recipes.
Example Recipes: Grilled tempeh with green beans and pineapple; polenta, sausage and mushroom stuffing; pumpkin cheesecake with a hint of chocolate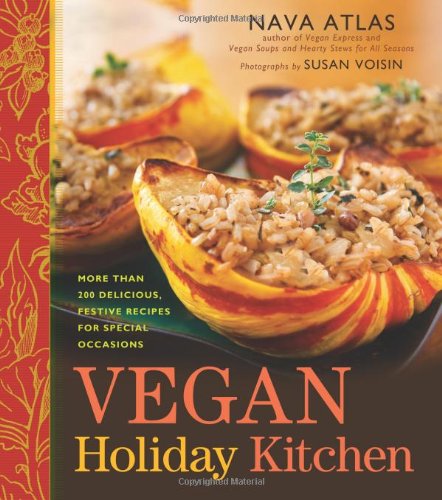 2. Vegan for the Holidays
This vegan cookbook focuses on the winter holidays and has a lot of meatless versions of classic dishes, as well as tantalizing new recipe ideas. The recipes are easy enough for beginners to follow but have enough complexity to satisfy advanced cooks.
Example Recipes: Almond and Olive stuffed Brussels sprouts; Savory lentil terrine with mushroom-wine sauce; Spiced cranberry nog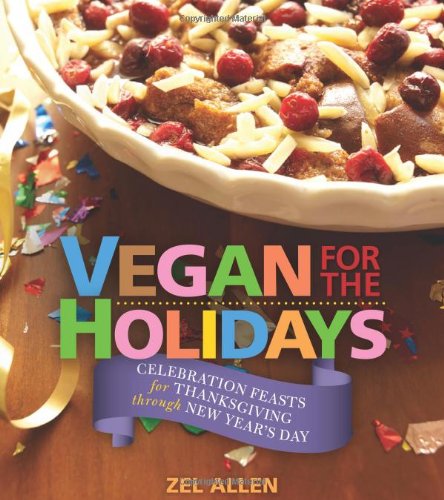 3. Vegan Celebrations
This cookbook covers a lot of holidays, so there are only about 10 recipes per holiday. The recipes are all very easy and fast to make, without any exotic ingredients. That makes it a good introductory cookbook for new vegans and novice cooks.
Example Recipes: Easter broccoli frittata; Patriotic parfait; Tourkey Cutlets; Christmas tamales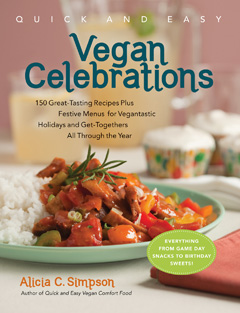 4. Vegan Holiday Cooking from the Candle Cafe
If youve been vegan for any amount of time, then youve probably heard of the Candle Caf. The restaurant is famous for serving up innovative and delicious menus, and theyve produced a few cookbooks. The book is set up a bit differently than the others on this list. Instead of listing individual recipes, the cookbook gives menus (which will make party planning easy). Each holiday has its own menu, and each holiday also gets an equal amount of attention. Note that this holiday cookbook is a bit advanced and recipes do require some hard-to-find ingredients.
Example Recipes: Wild Rice and Cornbread Stuffing; Scallion Pancakes with Homemade Kimchi and Wasabi Aioli; Pecan Pie with Cinnamon Ice Cream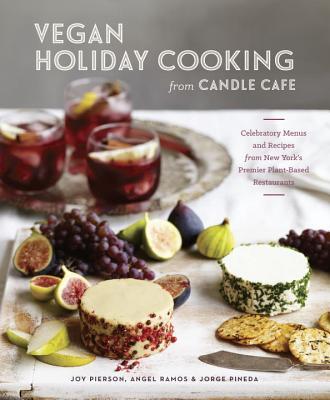 5. Best Healthy Vegan Holiday Recipes
This vegan holiday cookbook is completely FREE (as an eBook) and includes a lot of classic dishes. All of the dishes are very quick and easy to make, and this is a great starting point for new vegans without a lot of kitchen experience.
Example Recipes: Creamy Butternut Squash Soup with Cashew Cheese, Apricot Glazed Tofu, Mushroom-stuffed seitan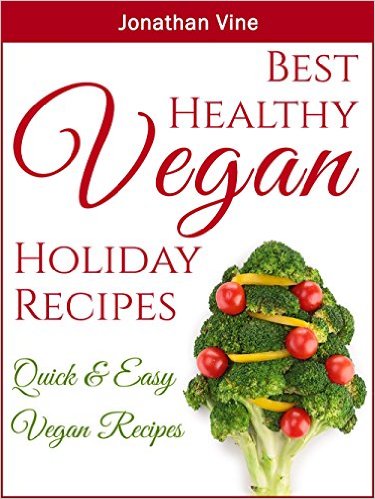 6. 101 Healthy Vegan Christmas Recipes
If you dont care too much about sticking to tradition, then this cookbook is a good choice. As the name promises, all of the recipes are healthy. They are also very quick and easy to make while still being tasty. There are also many raw food Christmas recipes in the book.
Example Recipes: Tofu croquettes with cranberry sauce; Crispy Greek Spinach Pie; Wild Rice with Caramelized Squash and Cranberries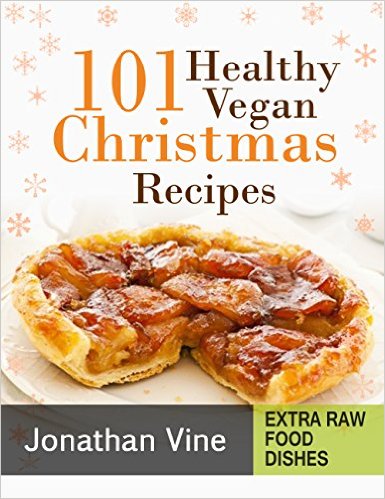 7. Gluten-Free and Vegan Holidays
This is the only holiday cookbook that I know of which is both vegan and gluten free. The cookbook includes some nice twists on holiday classics, as well as innovative festive recipes. Considering that gluten-free cooking and baking can be very challenging, the recipes are fairly easy to make and follow.
Example Recipes: Shiitake Walnut Sauce; Stuffed Cabbage Rolls with Chardonnay Sauce; White Bean Spinach Tart