For a lot of vegetarians, the one thing which keeps them from going vegan is cheese. Im not going to deny it: cheese tastes awesome. And, while there are starting to be more options for vegan cheese in the supermarket, these vegan cheeses dont come close to the real thing. Plus, many of them arent exactly healthy (not that real cheese, with its hormones, antibiotics and pus, is healthy).
That is why the cookbook Artisan Vegan Cheese by Miyoko Schinner is so exciting. Miyoko spent what must have been a lot of time experimenting in the kitchen to master the art of vegan cheese. These arent your standard vegan cheese recipes! There are recipes for aged, air-dried, meltable, and sliceable cheesesall 100% vegan, and surprisingly not that difficult to make.
Some of the recipes you will find in Artisan Vegan Cheese include:
Smoked provolone
Herbed chevre roll
Air-dried cheddar
Hempseed Camembert
Aioli salad dressings
Hard and soft gruyere
Macadamia ricotta

What Makes the Artisan Vegan Cheese Recipes Different
I remember my first attempt at making vegan cheese. It involved some veggie butter, nutritional yeast, liquid smoke, and various spices. The sauce which resulted tasted okay, but was hardly anything like cheese. Later, I experimented with nut-based cheeses. But, nut cheeses are usually raw and wont melt on your pizzas or casseroles.
Miyoko is all too aware of these problems with traditional vegan cheese recipes and has done a good job solving them. You can tell she spent a long time researching traditional cheese-making methods in order to find vegan ways of replicating them. But she has also always opted for the easiest route. So, you dont have to worry about separating curds from liquids. Instead, you just add some agar agar or another thickening agent to make a firm cheese.
Many of the vegan cheeses in the Artisan Vegan Cheese cookbook gain their taste from aging or culturing, not the addition of something acidic like lemon juice or vinegar. That means the cheeses have a lot more flavor and depth. Of course, this also does mean youve got to wait a few days before you can eat the cheese. But you will be rewarded for your patience with some of the most friggin fantastic vegan cheese youve ever eaten.
*The vegan cheeses usually have a shelf life of several weeks and can last for months in the freezer. So you can just age a big batch and store it for later.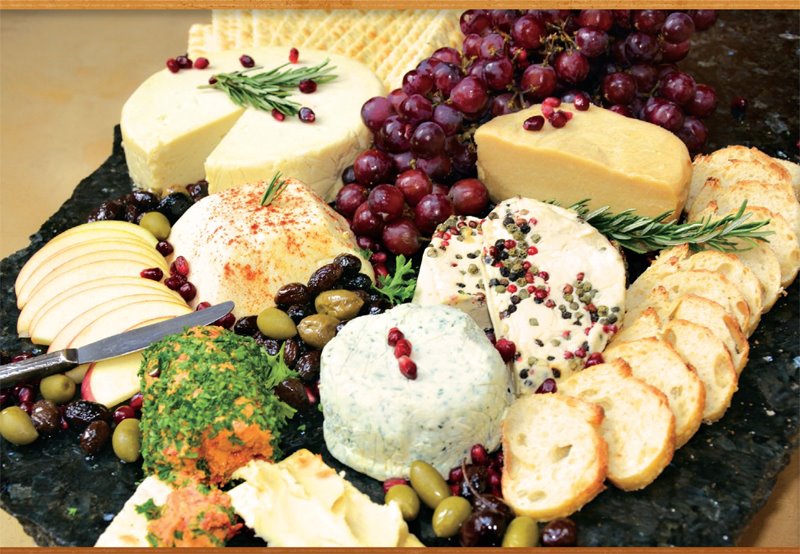 What You Need to Make These Vegan Cheese Recipes
Making aged, cultured vegan cheese seems like it would be complicated. But all it takes is some really simple ingredients and tools. For most of Mikoyo's recipes in the Artisan Vegan Cheese cookbook, the base is cashews or soy milk. You may also need:
Culturing Ingredients
A lot of the recipes in Vegan Artisan Cheese are made with culturing. Normally, this would mean using a probiotic of some sort. But, thankfully, Miyoko knows that vegan probiotics are hard to find and can be pricy. So, instead, she uses vegan yogurt or rejuvelac as starters. She even tells you how to make your own rejuvelac, which is really easy. You can also buy rejuvelac in most health food stores.
Firming Ingredients
Rather than have you use a cheese press or worry about some complicated process to get the vegan cheeses to firm up, Miyoko uses thickening ingredients. Most of these you can find in your local supermarket or health food store, like agar agar, xanthium gum, carrageenan, or tapioca flour.
Other Equipment
Blender, but you can get by with a food processorbut the nut cheeses might not be as creamy
Rack for the air-dried cheeses (I used the plastic trays from my dehydrator)
Molds (which can be something as simple as a glass bowl or loaf pan)
Cheesecloth (I use an old lace curtain, but it is probably worth it to buy cheesecloth)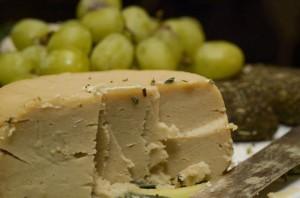 What's Inside the Cookbook
In Artisan Vegan Cheese, you will find dozens of recipes for vegan cheese, including variations on each type of cheese. The last three chapters of the book also give you amazing recipes for using the vegan cheese, such as Artichokes Stuffed with Almonds and Cheese and Fluffy No Bake Cheesecake.
Chapters:
Artisan and Aged Cheeses: This is where you will find your cheddar, brie, mozzarella and Gruyere
Air-Dried Cheeses: These cheeses are harder, like the air-dried parmesan and gouda
Meltable Cheeses: Muenster, Monterey Jack, and cheddar as just some of the cheeses youll find in this chapter
Almost-Instant Cheeses: Smoked provolone, ricotta, oat-based American cheese, and other quick vegan cheeses
Other Dairy Alternatives: Make your own yogurts, creams and milks
Cheese Sauces and Fondue: Alfredo, Swiss cheese sauce, chipotle cheese sauce, and more
First Courses and Small Plates: Impressive appetizers like red bell pepper dip and stuffed mushrooms
Entrees and Accompaniments: There are a lot of veganized traditional dishes here, like eggplant parmesan
Sweet Cheese Dishes and Desserts: Raspberry mousse, cheesecakes, tiramisuneed I say more?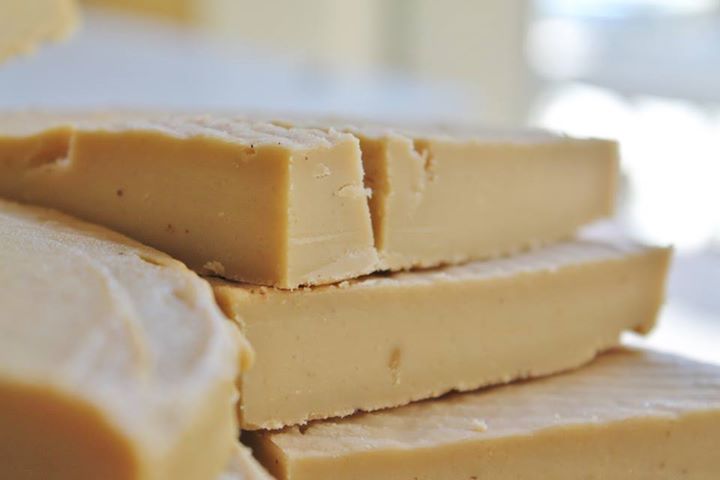 Recipe: Almost Instant American Oat Cheese
This recipe comes straight from the Artisan Vegan Cheese cookbook. It is from the Almost-Instant Cheeses chapter, so it doesn't have as much depth as the aged and cultured cheeses. But it is still incredibly yummy and is a great vegan cheese recipe to start with. Enjoy!
Makes about 2cups
Ingredients:
2cups oats
1 cup water
2/3 cup nutritional yeast flakes
cup rejuvelac or cup plain unsweetened nondairy yogurt or 1 tsp freshly squeezed lemon juice
3 tbsp medium brown miso
roasted bell pepper, skinned and seeded
tsp salt
1tsp prepared mustard
cup refined coconut oil or canola oil (optional but gives the cheese a better feel)
1 tbsp agar powder or 3 tbsp agar flakes
1 tbsp carrageenan powder
Instructions
Cook the oats. Put the water and oats in a heavy medium saucepan and bring to a boil over medium-high heat. Decrease the heat to medium-low and simmer, stirring frequently, until thick, about 5 minutes
Process the Ingredients: Transfer to a blender. Add the nutritional yeast, rejuvelac, miso, bell pepper, salt, mustard and optional oil. Process until smooth and creamy.
Thicken the Cheese: Transfer to a heavy medium saucepan and whisk in the agar and carrageenan. Cook over medium heat, stirring frequently with the whisk, until thick, 4 to 5 minutes
Form the Cheese: Pour the mixture into a glass or nonreactive metal mold and smooth the top. Cover and let cool completely at room temperature. Refrigerate for at least 6 hours, until firm.
Storage Notes:
Wrapped in plastic wrap and stored in a ziplock bag, Oat American Cheese will keep for about 2 weeks in the refrigerator or 4 months in the freezer.
Where to Buy Artisan Vegan Cheese
You can buy Artisan Vegan Cheese here..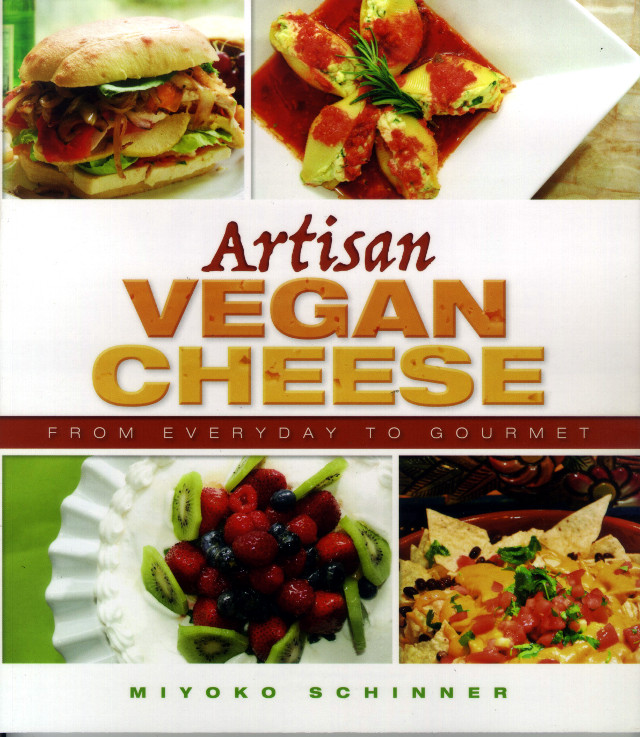 You might also want to check out the other great vegan cookbooks from Miyoko Schinner, including: